Summer Style Crochet Dresses Patterns and Design Ideas
#Breezy Beach Dress Free Pattern

The Crochet Breezy Beach Dress is the comfy and casual beach dress you've been dreaming of. Light embroidery, fun play of colors and cotton yarns are exactly what you need for your summer vacation on the beach or by the pool.
This design is an EASY LEVEL crochet pattern and uses chain, double crochet, 2 double crochet together, skips, slip stitch and double warp crochet. This is done by creating two panels, top-bottom and seaming the sides, then adding to the back and adding straps.
#Parisian Dress Free Pattern

Meet the Parisian Dress—this summer crochet pattern would be the perfect addition to your wardrobe! This dress features a form-fitting single crochet top, plus a flowy lace skirt.
Inside you will find instructions written in US crochet terms. (But you must already know the basics of crochet.)
You can purchase the pattern here on Ravelry, or click HERE for the free blog version of the pattern!
Materials Needed:
Premier Yarns Everyday Baby yarn
Or 1,000-2,500 yards of DK weight yarn
H crochet hook (or size to obtain gauge)
J crochet hook
Yarn needle
#Del Mar Beach Dress Free Pattern

18 Stitches and 10 rows measured over 10cm, 4in of Extended
Half Treble (Extended Half Double) using a 4mm (UK 8 – US G6)
hook or size needed to obtain correct tension (gauge).
18 Stitches and 11 rows measured over 10cm, 4in of Linked Half
Treble (Linked Half Double) using a 4mm (UK 8 – US G6) hook or
size needed to obtain correct tension (gauge).
12 Stitches and 12 Rows measured over 10cm, 4in of Pique
stitches using a 4mm (UK 8 – US G6) hook or size needed to
obtain correct tension (gauge).
#Violet dress Free Pattern

The front and back of the crocheted dress were made separately from bottom to top and then sewn together. Spiral fan piping trims the hem and armholes, and crab stitching trims the neckline. It was made with a negative lightness of about 2 inches and fit snugly. If you have wide shoulders, a side zipper is recommended and you can certainly easily sew this dress for a relaxed fit.
This written pattern assumes you know the basics of crocheting. This is a compressed pattern that you can resize to suit your dimensions and design preferences using your sensor. A list of unaffiliated tutorials that I found helpful can be found on my blog at:
#Sandy Shore Cover Up Free Pattern

The Sandy Shore Cover Up pattern is crocheted from Lion Brand's Ribbonaire yarn. It is an ultra-lightweight yarn made from a blend of polyester and nylon. It also has a gorgeous two-tone effect that is very eye-catching.
This is a beginner's pattern that uses very simple stitches such as plain and double crochet. Knowledge of how to crochet deductions is required. This pattern requires very little sewing. The pattern includes a hood, but it is optional. Construction is also pretty simple
Alize beach cover Crochet Pattern

If your edgy feelings have something to do with knitting lace, you have options. Whether you're planning a lace design of your own, or working a designer pattern, there are a number of alternatives for the edgings of shawls, scarves and garments. The requirements of the individual project itself will help you make your decision about the treatment of the edging, if an edging is your choice.
I will discuss several edging techniques, starting with the traditional Shetland technique, since it is my favorite. Then, we'll go on to other possibilities you might want to consider.
Lovely dress Crochet Pattern

Garter Stitch, Stockinette Stitch, Pattern Stitch, Bell Shaped Decreases
Be sure to set the language of katia.com in the language you want to download the pattern in: Spanish, English, French, German, Dutch or Italian.
Korean Polka Crochet Pattern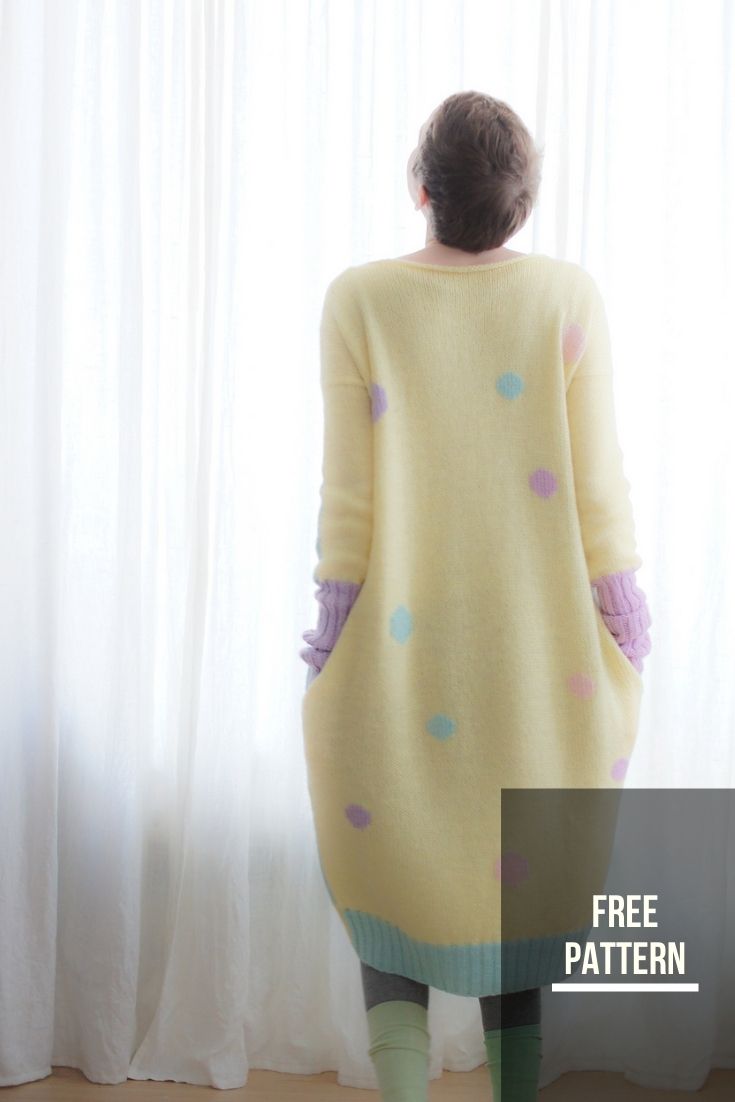 A follow-up of my "Gray matter" dress with thicker yarn and needles which makes it a smaller marathon;)
It turned out to be a happy warm colorful oversized sweater dress with side pockets, knitted in pieces and seams at the end; front and back are the same but have a different color, so portable on both sides 🙂 The "unfinished" neck curls perfectly in place. The polka dots are created with double seams so no complicated marquetry here; place them where you want and as many as you want!
Knitted sleeves (pick up and knit), a little simple marquetry at the sleeves and a lot of mattress stitch 🙂 Knit the rib knit at the sleeves. Happy knitting!
Beach Day Cover Crochet Pattern

This Cover-Up Tunic works beautifully over your swimsuit as well as leggings or skinny jeans and a tank. It has a loose fit with a drawstring at the waist for a nice fit. The V-neck is continuous from the front and back and if you wanted it to be closed up a little more, it is easy to do. I love the bold color stripes that alternate between solid double crochet and a beautiful lace stitch, but I think it would also look fantastic in a solid color. I added some beautiful shell beads to the drawstring for a little extra zing. You can replace with wood, glass or metal beads or leave it plain!
I dimensioned this for an average M / L with a longer length and I give instructions on how to make it wider or narrower and longer or shorter. It's so easy!
Antares Crochet Pattern

Antares is the Alpha star of Scorpius constellation.
Its name means "Rival of Mars", because of their similar red colour.
This garment is worked top-down, seamless, following the "contiguous method" by Susie Myers (SusieM on Ravelry).
Ladies' Jumper Skirt Crochet Pattern

Both English and Japanese versions are fully charted using standard knitting and/or crochet symbols. For help using Japanese charted patterns, please visit the Japanese knitting & crochet group.
Japanese version available here.
Tools/Materials:
Japanese size 4 & 5 knitting needles (3.3 & 3.6mm)
Japanese size 4/0 crochet hook (2.5mm)
small: 440g Pochette
Shore Thing Dress Crochet Pattern

GAUGE: 5 pattern repeats = 7" 18 cm; 12 rows = 4" 10 cm in shell pattern of lower section.
20 sts = 4" 10 cm in half double crochet (hdc), after blocking.
CHECK YOUR GAUGE.
Use any size hook to obtain the gauge.
Directions are for size X-Small/Small. Changes for sizes Medium/Large, X-Large/2X-Large and 3X-Large/4X-Large are in parentheses.
To Fit Bust: 30-34 (36-42, 44-50, 52-58)" 76-86.5 (91.5-106.5, 112-127, 132-147.5) cm
Finished Bust/Hip: 42 (48, 56, 65)" 106.5 (122, 142, 165) cm, after blocking.
Sea Vines Dress Crochet Pattern

Knit using our Flaxen silk blend yarn this yarn drapes beautifully with this pattern making it a prefect addition to your summer wardrobe.
Filia Crochet Pattern

Stunning in its simplicity, this summery tank features a wide, draping hem in a slinky yarn.
Dress with Flare Crochet Pattern

An airy v-stitch mesh allows this dress to drape gently and beautifully. Crochet it in your favorite Classic Crochet Thread color and dress it up or down to fit each day of your travels (it won't take much room in your suitcase).
Ombre Tank Redux Crochet Pattern

This simple summer knit works up quickly with lace-weight linen held double. A flattering A-line shape and minimal finishing make this easy to knit and easy to wear. This is an update on the Ombre Tank we published in 2013.
Materials:
Espace Tricot Petit Lin (100% linen)
600 yds (548 m)/100 gr
Color A: 1 (1, 1, 1, 1, 1, 1, 1) skein
Color B: 1 (1, 1, 1, 1, 1, 1, 2) skeins – or switch to color C once B runs out for largest size
Color C: 1 (1, 1, 1, 1, 1, 1, 1) skeins
Summer Breeze Dress Crochet Pattern

The Summer Breeze dress is the new favorite crochet summer sundress! Modern, chic and airy for summer, this crochet dress is a must have for you this summer. Made from cotton yarn, this dress is great to wear during the hot months or can be made into thicker yarn for colder months. It is beginner friendly, and is made in one piece so there will be no seaming.
The pattern comes in XS-3XL sizes so it can be worn in a wide range of sizes. I have shaped the dress myself in a small size. If you want to tailor the dress to better fit your body, the pattern contains instructions on how to modify it.